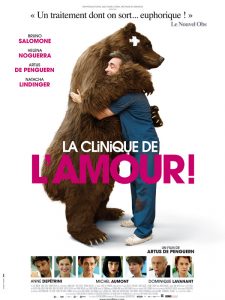 LA CLINIQUE DE L'AMOUR !
by Artus de Penguern (France, 2012, 1h23)
starring Artus de Penguern (John Marshal), Héléna Noguerra (Priscilla), Bruno Salomone (Michael Marshal), Natacha Lindinger (Samantha), Ged Marlon (Tom), Emilie Caen (Cathy), Dominique Lavanant (Mademoiselle Philipps)
Tales of love, money and betrayals in a small family-run clinic on the verge of bankruptcy in which two brothers confront one another, deviously manipulated by a grasping nurse. When Urgence turns into a crazy comedy in which intrigues worthy of Dallas abound.