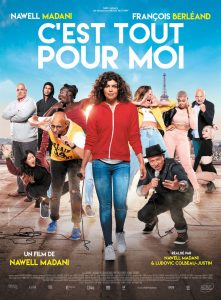 STAND-UP, GIRL!
by Nawell Madani et Ludovic Colbeau-Justin (France, 2017, 1h42)
starring Nawell Madani, François Berléand
Lila, a young Belgian girl from the suburbs, has only one thing on her mind: to become a dancer. Although this is not exactly what her father had in mind for her… She leaves her hometown well determined to conquer Paris and make a name for herself in showbiz. Facing struggles and disillusions, Lila will give it all to show her talent. Starting as a dancer, she will gradually discover the world of stand-up comedy. Her big dream: to perform in a legendary Parisian theater and finally make her father proud.